Gestione Uas (droni)
×
Warning message
This content has not yet been translated. What you're seeing is the content in the original language.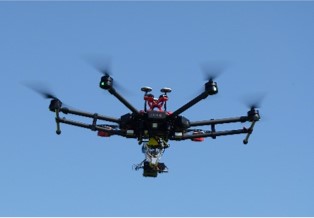 I Sistemi di aeromobili senza equipaggio UAS (Unmanned Aircraft System), comunemente denominati "droni" sono costituiti da un mezzo aereo (Aeromobile a Pilotaggio Remoto - APR), e dai relativi componenti necessari per il controllo e comando (Ground Control Station), sistema con cui il pilota può gestire il volo dell'APR a distanza.
Inizialmente nato per scopi militari, le applicazioni del drone sono oggi molteplici: in ambito tecnico-scientifico rappresentano, infatti, un valido strumento per l'acquisizione di dati, offrendo supporto per studi di carattere ambientale, epidemiologico, storico e in ambito di Protezione Civile. Inoltre, la possibilità di monitorare e mappare aree dall'alto, permette che tutti i luoghi impraticabili o difficilmente raggiungibili, possano essere indagati e monitorati per scopi di varia natura.
Il Consiglio Nazionale delle Ricerche ha istituto un Gruppo di Lavoro permanente per la gestione dei Sistemi a Pilotaggio Remoto (droni) da parte delle Strutture del Cnr, con dipendenza funzionale dal Direttore Generale, coordinato dal dott. Gianluca Sotis (cfr. provvedimento del Direttore Generale prot. n. 0068990 del 03/11/2020). Il Gruppo, con competenze specifiche nei campi della sicurezza, della protezione dei dati, degli aspetti giuridici, informatiche e organizzativo-gestionali, ha il compito di definire indirizzi omogenei nel Cnr oltre a:
istituire e gestire un registro della flotta SAPR (attuali UAS) del Cnr (velivoli e personale coinvolto);
offrire supporto informativo agli operatori relativamente alle procedure amministrative stabilite dagli Enti di controllo;
definire e aggiornare le linee di indirizzo per la gestione di tali mezzi nel Cnr, che contempli anche gli aspetti di sicurezza degli operatori, della popolazione, dello spazio aereo, di gestione dei dati e di security;
predisporre documenti di riferimento per l'elaborazione e la redazione dei regolamenti e della documentazione di Istituto;
provvedere al censimento dei fabbisogni formativi e addestrativi e sistematizzazione di percorsi (in collaborazione con l'Ufficio Formazione
sviluppare collaborazioni tecniche e organizzative con altri Enti;
mantenere i rapporti con gli enti di controllo ENAC e ENAV.
Referente unico del Cnr per i rapporti con gli Enti ENAC e ENAV è l'Ing. Andrea Berton, che svolge altresì le funzioni di segreteria tecnico–organizzativa del Gruppo di lavoro, reperibile ai seguenti contatti: Consiglio nazionale delle ricerche - via G.Moruzzi, 1 56124 Pisa, email: andrea.berton@cnr.it, tel. +39/050/315.2155.
Last update: 15/07/2021