Event
Governing new and traditional partnerships for innovation and development in the post-pandemic world
Dal 27/06/2022 ore 13.00 al 29/06/2022 ore 19.00
Department of Economics and Management (DISEI)
University of Florence UNIFI
Polo Scienze Sociali Novoli
Via delle Pandette, 9 - 50127 Florence (Italy)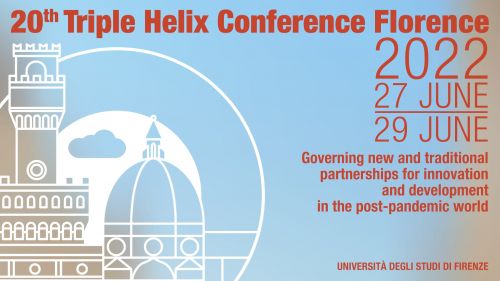 The 20th Triple Helix Conference, titled "Governing new and traditional partnerships for innovation and development in the post-pandemic world", will be held in Florence with the aim to bring together leading scholars, policy makers and practitioners from different fields and sectors to advance the understanding of the dynamics between science, the social sector, industry and governmental institutions under the contemporary challenges.
We are living in a time of tremendous changes. The Covid-19 has disrupted our way of life and has exacerbated the economic, societal, and environmental challenges we were already facing. That's why we firmly believe that the co-creation of knowledge and the collaboration mechanisms among different actors embedded in innovation (eco)systems are crucial to build new sustainable paths of development for the wellbeing of our society.
The National Research Council of Italy (CNR) is member of the Scientific Committee of the International Conference (THC) and member of the board director of the Triple Helix Association.
Organizzato da:
Department of Economics and Management (DISEI) University of Florence UNIFI Polo Scienze Sociali Novoli - Via delle Pandette, 9 - 50127 Florence (Italy)
CNR, Triple Helix Association, OIC srl
Referente organizzativo:
Emanuele Fiore
Cnr-Ipcb
Via Campi Flegrei 34
Pozzuoli Napoli
emanuele.fiore@cnr.it
Modalità di accesso: a pagamento
Vedi anche: