26/05/2023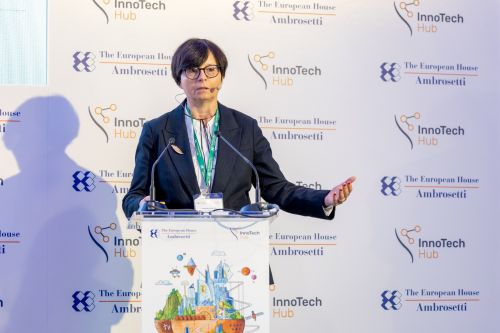 La Presidente del Cnr Maria Chiara Carrozza interviene al Technology Forum 2023, organizzato da The European House - Ambrosetti, che si svolge il 25 e 26 maggio a Stresa. Nel suo intervento, Carrozza sottolinea: «Sono diecimila le persone che lavorano nell'ambito del Cnr. Oggi la ricerca è fortemente basata sulle infrastrutture apposite, che devono essere accessibili alle imprese per fare vera innovazione. La "disruptive innovation" dipende dalla ricerca fondamentale».
Il Technology Forum 2023, organizzato da The European House - Ambrosetti, è un prestigioso evento europeo dedicato all'innovazione, alla tecnologia e alla ricerca che riunisce manager, imprenditori e ricercatori provenienti da diverse realtà industriali strategiche, per discutere, insieme ai rappresentanti delle istituzioni e del mondo politico, gli ultimi trend e gli sviluppi della tecnologia e il loro impatto sul mondo delle imprese e sulla società.
La dodicesima edizione del Forum riunisce un gruppo selezionato di aziende di frontiera nel campo dell'innovazione tecnologica, di università e centri di ricerca, a cui si affiancano rappresentanti delle principali istituzioni europee e italiane, nonché esperti, opinion leader e personalità attive su questi temi a livello internazionale.
Il Technology Forum 2023 prevede discussioni e presentazioni all'avanguardia centrate su tematiche tecnologiche di importanza strategica, come la governance e il finanziamento dell'innovazione, l'uso etico dell'intelligenza artificiale, le strategie di protezione dalle minacce informatiche, la trasformazione digitale e il futuro del lavoro.
Per informazioni:
Presidenza Cnr
presidenza@cnr.it