Event
LXIII Convegno annuale 'Science and innovation for sustainable agriculture intensification: the contribution of plant genetics and breeding'
Dal 10/09/2019 ore 13.30 al 13/09/2019 ore 13.00
Complesso Monumentale di S. Lorenzo Maggiore - Napoli - Italia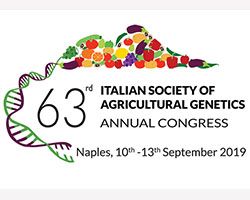 Il Convegno annuale della Società italiana di genetica agraria (SIGA) si terrà a Napoli dal 10 al 13 settembre 2019 nel Complesso Monumentale di S. Lorenzo Maggiore, organizzato congiuntamente dal gruppo di ricercatori della genetica agraria del Dipartimento di agraria e dall'Istituto di bioscienze e biorisorse (Ibbr) del Cnr. Il comitato organizzatore locale è composto dal Prof. Luigi Frusciante, già Presidente della SIGA, dal Prof. Edgardo Filippone, segretario in carica della società e da Stefania Grillo del Cnr-Ibbr.
Il tema del convegno, scelto dal Consiglio direttivo della SIGA presieduto dal prof. Mario Pezzotti dell'Università di Verona, è 'Science and innovation for sustainable agriculture intensification: the contribution of plant genetics and breeding'.
Esso è di particolare attualità e rilevanza, prova ne sono, tra le altre, la riduzione della produzione agricola in paesi come la Germania a seguito dei cambiamenti climatici e la deforestazione di vaste aree del Brasile al fine di guadagnare altre terre da destinate alle colture agrarie.
Il contributo della ricerca italiana nel settore della genetica e del miglioramento genetico delle piante agrarie sarà esposto durante i quattro giorni del Convegno nelle otto sessioni nelle quali esso è articolato, per un totale di dieci relazioni ad invito, 39 comunicazioni orali e 132 poster.
Il Convegno prevede inoltre una tavola rotonda su 'The role of plant genetics and breeding in the green and circular economy era' moderata dal prof. Luigi Cembalo ed un simposio finale su 'Plants crosstalk with other organisms'.
Il Premio SIGA per la migliore pubblicazione del 2018 su rivista internazionale, intitolato al prof. Francesco D'Amato, è stato assegnato alla dott.ssa Clizia Villano, ricercatrice afferente alla Sezione di genetica e biotecnologie vegetali del Dipartimento di agraria dell'Università di Napoli Federico II.
Alla SIGA aderiscono la quasi totalità dei ricercatori dell'Università e di Enti di ricerca pubblici impegnati in studi di genetica e di miglioramento genetico di piante d'interesse agrario, oltre che delle maggiori aziende del settore della produzione sementiera e delle biotecnologie vegetali.
Nei 65 anni di attività della SIGA la nostra regione ha già ospitato il Convegno della società, ma mai a Napoli: la sede del Convegno di quest'anno porterà i partecipanti italiani e stranieri nel cuore della città partenopea, poco distanti dalla sede storica dell'Ateneo fridericiano, che avranno così modo di visitare.
Organizzato da:
Società italiana di genetica agraria
Dipartimento di agraria dell'Università degli Studi di Napoli "Federico II"
Istituto di bioscienze e biorisorse del Cnr
Referente organizzativo:
Maria Stefania Grillo
CNR - Istituto di Bioscienze e Biorisorse
Via Università, 100 Portici (NA)
grillo@unina.it
0812539213
Modalità di accesso: registrazione / accredito
Vedi anche: