14/04/2017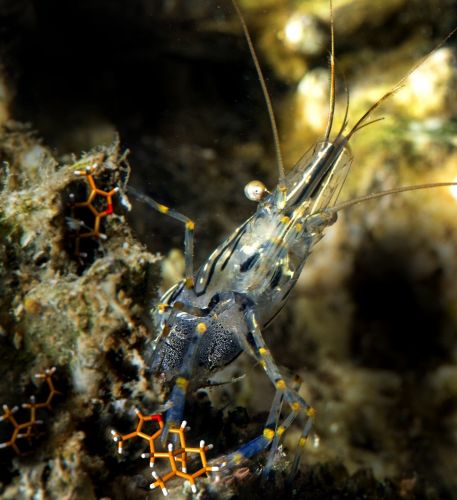 The sense of smell is traditionally considered a 'distance sense', while taste is treated as a 'contact sense'. This paradigmatic distinction, which pervades the current literature on the anatomy, physiology, and genetics of olfaction, has been the subject of major logical criticism in a perspective article already published in Frontiers in Chemistry in 2014. The new perspective proposed that, moving from the terrestrial to the aquatic environment, a reversal of the spatial range of olfaction can occur when the olfactory signals are biomolecules that combine volatility in air and insolubility in water. This idea anticipated and created the premise for the recent empirical confirmation published in March 2017 in the Proceedings of the National Academy of Sciences of the United States of America (PNAS), in the framework of an international collaboration between the Institute of biomolecular chemistry (Cnr, Italy) and other research institutions in Italy, Australia, Indonesia, Germany, and USA. The study challenges the current literature on chemical communication in aquatic environments that is based on the idea that the olfactory world of crustaceans and fish is limited to the perception of waterborne compounds. Compounds known to contribute to the smell of terrestrial plants such as turmeric and myrrh were also isolated in aquatic animals that use them as defensive chemical weapons. The report shows that both a common shrimp (Palaemon elegans) and the zebrafish (Danio rerio) can sense the smell of such volatile and insoluble compounds, but only after touching them. The paper also shows that avoidance learning plays a key role in the tactile discrimination of defensive odors.
Rome, 14 April 2017
Profile
Who: Institute of biomolecular chemistry (Cnr, Italy); Parthenope University of Naples (Italy); Federico II University of Naples (Italy); The University of Queensland (Australia); Universitas Pendidikan Ganesha (Indonesia); Christian-Albrechts-Universität zu Kiel (Germany); California Academy of Sciences (USA).
What: Volatile secondary metabolites as aposematic olfactory signals and defensive weapons in aquatic environments.
Proceedings of the National Academy of Sciences USA 2017, http://www.pnas.org/content/early/2017/03/07/1614655114.abstract
Contacts: Ernesto Mollo, Institute of biomolecular chemistry (Cnr, Italy), e-mail: emollo@icb.cnr.it; Alessia Cosseddu, Institute of biomolecular chemistry (Cnr, Italy), e-mail: alessia.cosseddu@cnr.it
Ufficio stampa:
Emanuele Guerrini
Ufficio stampa Cnr
emanuele.guerrini@cnr.it
Capo ufficio stampa:
Marco Ferrazzoli
marco.ferrazzoli@cnr.it
ufficiostampa@cnr.it
06 4993 3383
skype marco.ferrazzoli1